Richès Karayib introduces you to Sandisha Antoine, the best Martinican woman coming from Saint-Lucia.
Today, she devotes herself fully to her track and field career after obtaining her Diploma in Accounting and Management and having been an accountant for 3 years.
Since the end of 2019, she is based in Jamaica, where she is preparing for the Olympic season, seeking qualification for Tokyo. The games will be held in July 2021 and she will be representing St. Lucia in the triple jump.
Sandisha tells us about her journey.
I am Sandisha Antoine, born in St. Lucia I emigrated to Martinique in 2001 at the age of 9 years old with my whole family: my mother, my step father, my younger brother and younger sister. I am the 5th of eight siblings (my youngest sister was born in Martinique).
I grew up in Bellevue Vieux-Fort in Saint Lucia.
At the time without running water or electricity, I was having fun running all about the place, climbing trees, playing cricket and all kind of games with the boys; knowing that I grew up with four older brothers, I was a real tomboy.
It was still my best years and my best childhood memories.
Also athletics was the ultimate school sport, so naturally I have participated in "sports day" since my entry into primary school.
At the age of 11, I was placed in foster care for 9 months while my mother was regularizing her status and getting her residence permit and finfing decent accommodation for me, my little brother and my little sister.
And there… I was asked to choose an activity.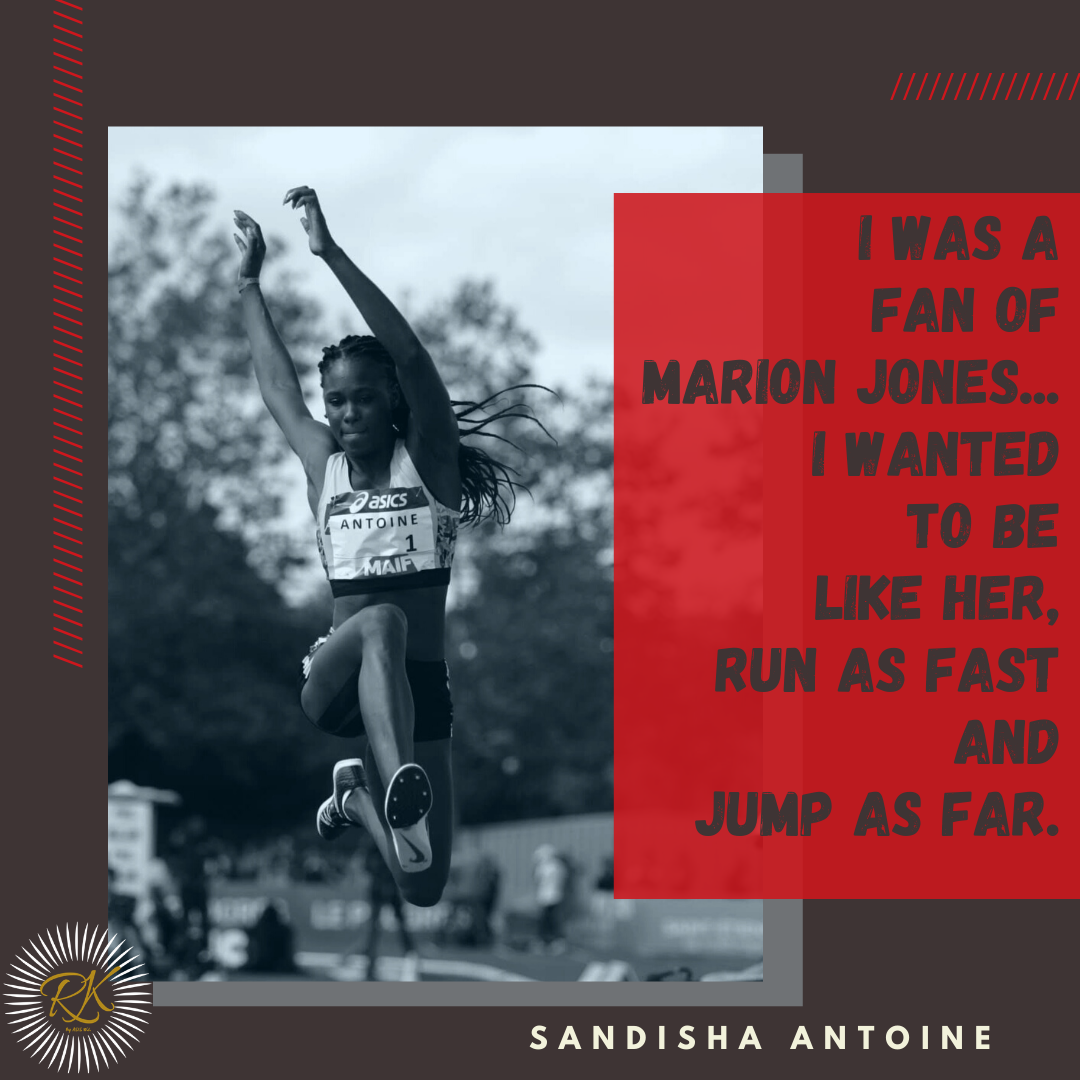 Of course I chose track and field. At that time I was a fan of Marion Jones, whom I discovered at the Edmonton world championships in 2001. She fascinated me, I wanted to be like her, run as fast and jump as far.
Gradually the stadium became my happy place.
The place where I could express myself and be in total control. It also gave me that the structure I needed, discipline and the track allowed me to dream and believe in myself.
MY FIRST EXPLOITS
In 2007, I participated in my first CARIFTA GAMES. I won the silver medal in the under-17 triple jump.
This silver medal was the first in the history of St. Lucia athletics, that is when I understood what the sport could bring me.
It was an opening to the Caribbean and also to the world, it was my way out.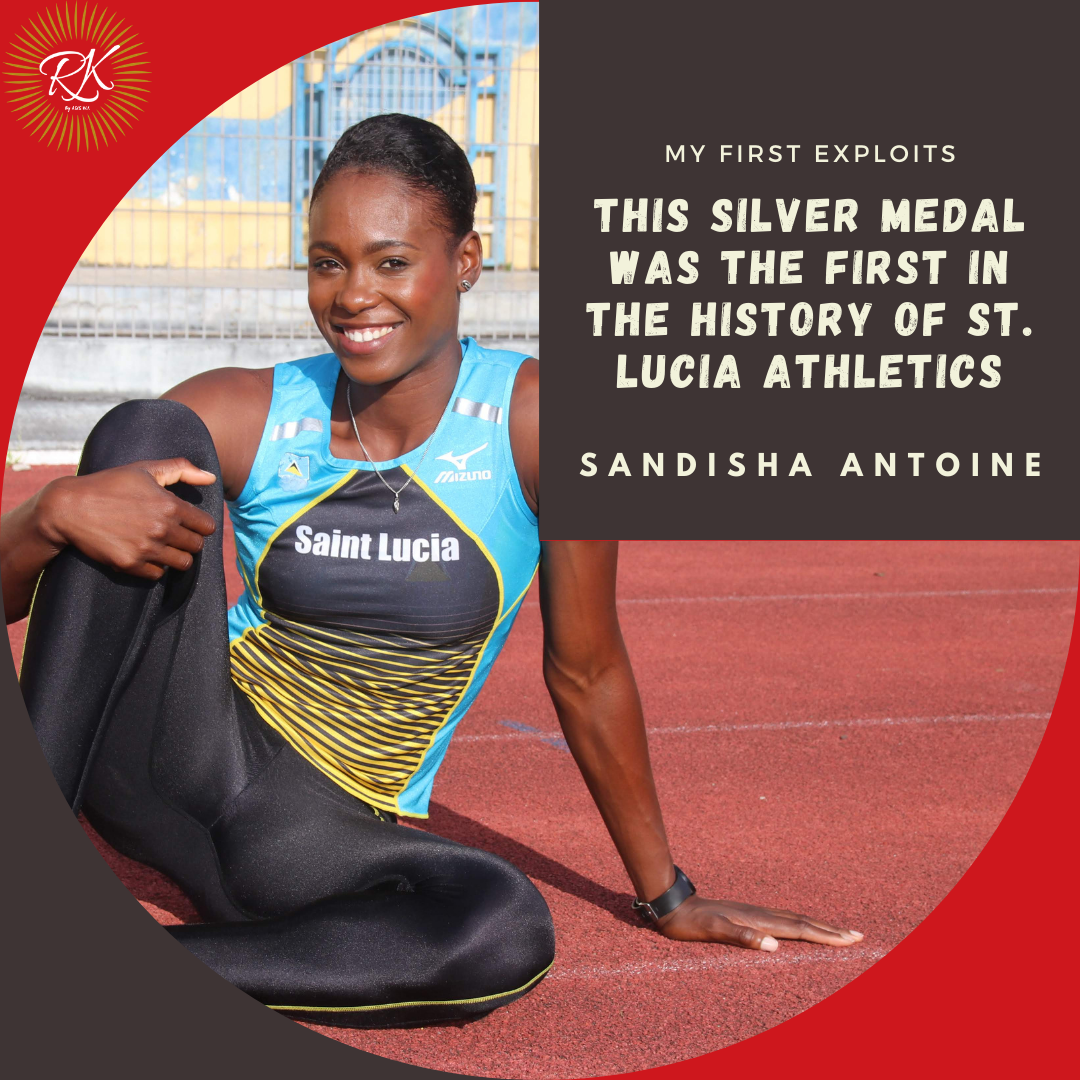 I also won silver at the French under 18 championships in2007 and 2008 while remaining at 1st place on the under 18 top list in the triple jump.
I also participated at the world youth championships in Ostrava in 2007.
I am also a two time CARIFTA GAMES gold medalist in the under 20 triple jump. I won in 2009 in St Lucia, which is one of my best memories knowing that the games were taking place in my hometown.
This is one of my best memories ever.
My second victory happened in 2010 in the Cayman Islands.
Since my beginnings, it is with pride that I have embraced the opportunity to represent not only Saint Lucia but also Martinique. I am and will remain the best Martinican woman from Saint Lucia, as they said at that time on the track.
Each medal won or every qualification obtained represented the investment of Martinique, the expertise of my coach, the support of my club and the financial aids of the Martinique region at the time. In short, good years in the youth categories that portend a senior outbreak.
Things got a little complicated because I had to balance track and studies and it was not that easy.
In 2013, I however managed to win double gold at the French under 23 championships in the long and triple jump. That same year, I finished 2nd in the elite French championships in the long jump.
I started facing injuries in 2014 and the doubts manifested themselves.
I think about my future, you have to be able to feed yourself, pay your bills… I have to try to balance my job as an accountant and to practice. Both tasks are very demanding and without a facilitated schedule it is very difficult to do.
After a nearly blank season in 2017 due to Achilles tendon injuries, I wanted to give up and put and end to my career.
But In 2018, I jumped better than ever at the CAC (Caribbean and Central American) Games in Colombia, jumping a new personal best after 3 years and finishing 5th in a competition won by the reigning Olympic champion Caterine Ibarguen.
It was sort of a "wake up call".
I remembered what I loved so much about that event and I knew that there was much more to do and that I had not reached my peak yet.
So you have to be brave and go after your dreams, it doesn't matter if the result is not the one you want even if you tried everything and gave it 100%.
THE OUTBREAK…
At the end of 2018, I found the courage and to make the decision to devote myself entirely to my track and field career and I quit my job.
January 2019, I changed my training frame and got out of my comfort zone.
The Olympic Committee of Saint Lucia supports me financially and makes every effort to optimize my training conditions for the world indoor championships in March 2020 and for the TOKYO Olympic Games in JULY 2021.
This strategy payed off because I am again silver medallist of the French elite championships in the triple jump.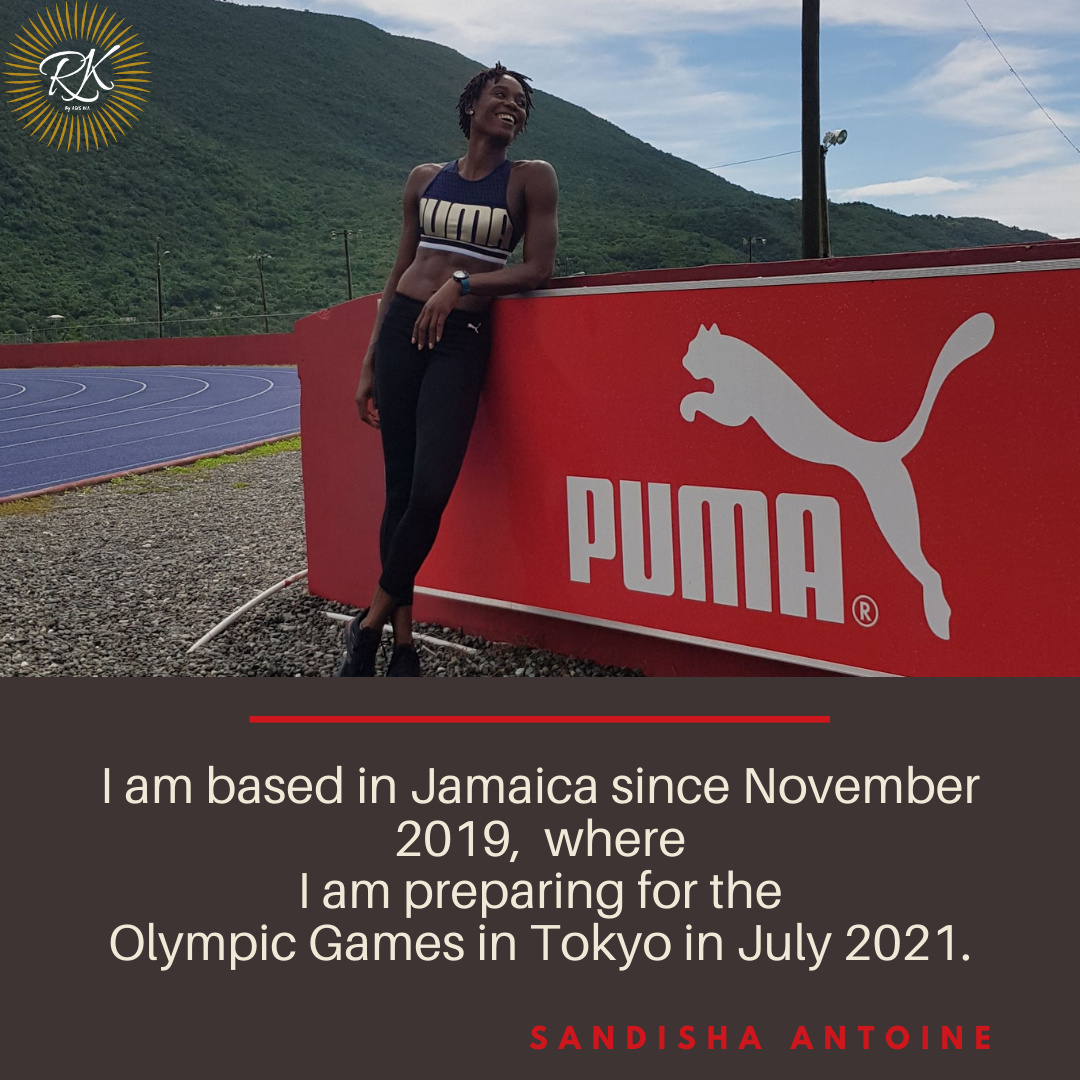 Since the end of 2019, I am based in Jamaica from where I am preparing for the Olympic Games in Tokyo in July 2021.
Today I train with one of the best jumpers in the world and I rub shoulders with excellent people in their respective disciplines.
So I use this energy and it allows me to grow my self-confidence and realize that I can also be one of the best in my event.
Getting out of your comfort zone can be scary, but ultimately it allows you to really reveal yourself.
It is not easy to say that you want to become a professional athlete and make a living out of your passion.
It is important to find support, especially financial support, which is not always obvious because this life plan is often misunderstood and underrated.
MORE THAN A PROFESSION IT IS A PASSION
It's not just a profession, it is a passion, it is the opportunity to inspire, it is the opportunity to be an example,it is to be an ambassador for my island and my region.
It is the opportunity to convey the values of Olympism, which for me are simply principles of life.
I would like to take this opportunity to thank LS TRADE CORP., a small company in Martinique, which has been supporting me since 2019 and who helps me in the pursuit of my dream.
This company is deeply rooted in the Caribbean and promotes its wealth.
INTEGRATION THROUGH SPORT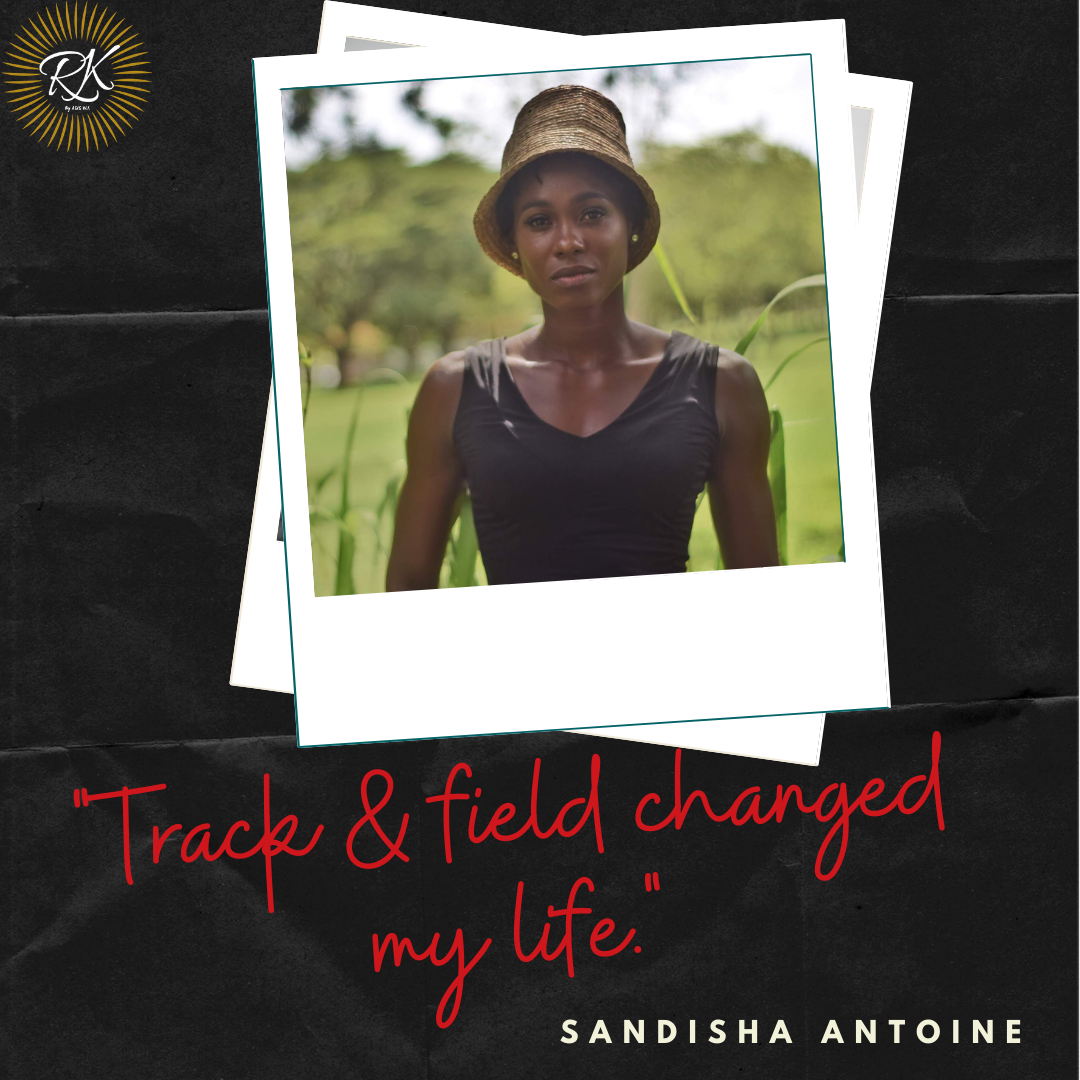 And finally, track and field changed my life, it allowed me to build myself.
Everything I have learnt serves me in all aspect of my life today. It is a significant means of integration because it carries values of respect, effort, perseverance and self-sacrifice.
I strongly believe in integration through sport and the young person who understands that, understands that he can open doors and build himself.
AND THE CARIBBEAN…
The Caribbean is full of talents, we must find a way to make it grow and make it shine with its talents in the eyes of the world, while staying at home.
That is also why I chose to stay and be an example.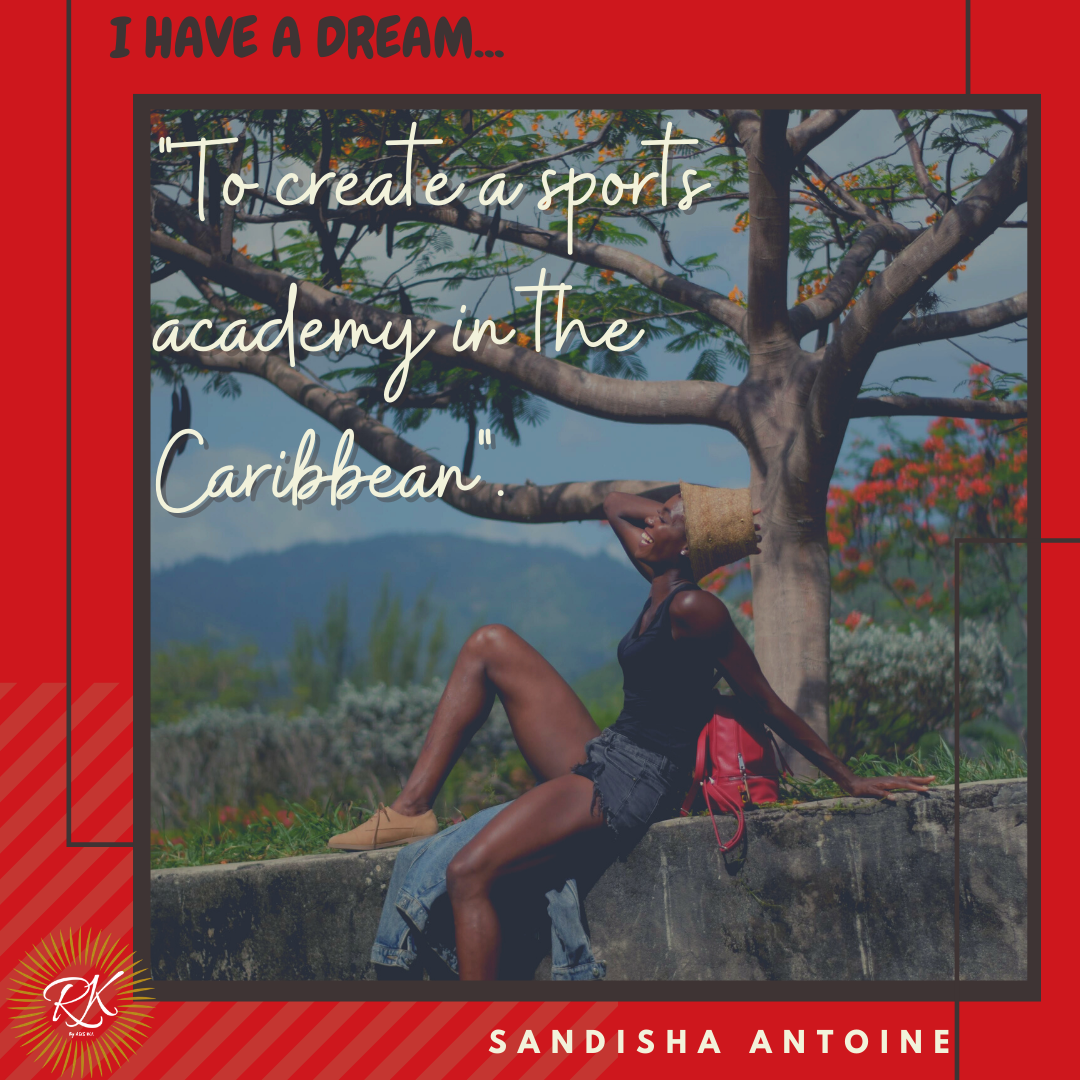 The ultimate project would be to be able to create a sports academy in the Caribbean and allow athletes from islands like St Lucia and Dominica to benefit from correct training conditions.
This allows them to fully express themselves and to become aware of their places in society as an example.
And also to prepare them for the transition after the sports career.
NEXT RICHÈS KARAYIB
Meeting on 12/01/2021
Sign up now to be informed!