Richès Karayib introduces you to Yoni Alpha, better known by his artist name "Paille" or The man "Paille".
He is primarily a singer-songwriter of Raggae-Dancehall and is also a teacher of Management and Communication from Martinique.
For more than 17 years, he never ceases to surprise us, album after album, song after song. His production, the maturity, the intelligence of his words and his way of dealing with subjects without straying make him a fully fledged artist.
He has collaborated with great Caribbean artists, from Kassav to Etana, Konshens, Anthony B, Meryl, Straïka D and so on…
Besides, he promises us some good surprises.
Let us discover together this Man, The man "Paille" (Straw) who hides behind his straw… hat.
Let's start with this video that will put everyone in perspective!
PAILLE HAS A MESSAGE FOR YOU!!!
SEE IT AT THE END OF THE POST
They call me Straw since '97, it's a nickname that basically has nothing to do with music, it came from the expression "Boulé An Pay" (which means drunk in creole) and as I had some experiences with alcohol during my youth the nickname remained and became PAILLE, my artist name.
We laugh about it now but at the time it was not fun.
I sing more Dancehall, Raggae, Hip Hop, but honestly I like writing, no matter the kind of music, no matter what the tempo is.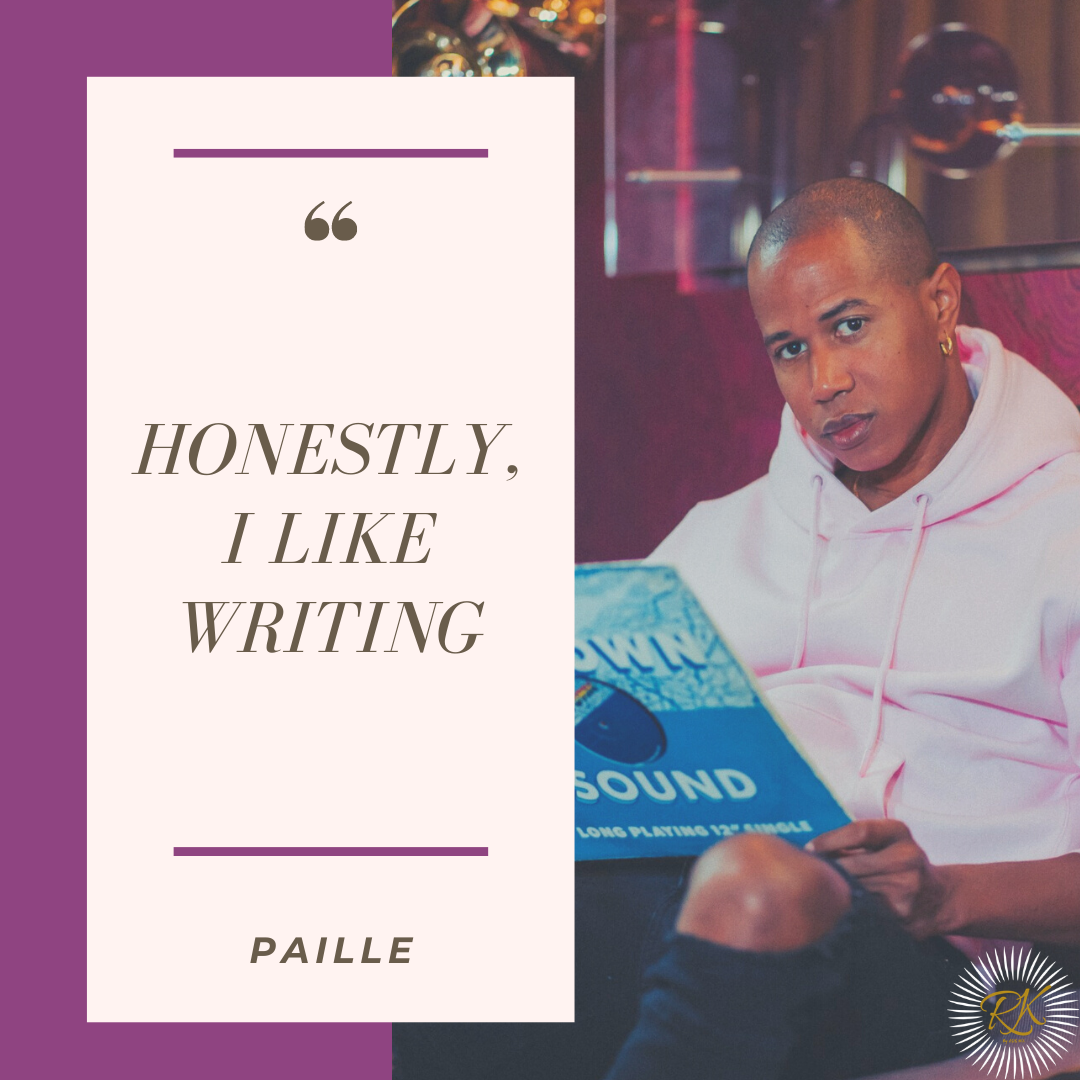 I like the storytelling logic and rap, Dancehall do it well.
There are lighter music, which will be interesting for their musical qualities like zouk, but which are also necessary at times, it depends of the mood, period … and lots of things.
MY BEGINNINGS
I think I have always hummed, sang small texts that I wrote myself and already during the small parties in college I was on the podium singing the 4 musical bars I had written at the time.
And then from memory, in 2000-2001, by accident, I went to Byronn's studio and we tried a "little track", I did not like the result because I had actually a lot of difficulty transcribing what I had in mind through the microphone.
I wanted to progress, I started to go there very regularly and then, that is all I did …
And then it was gone.
1ST SONG
"PA SA PALÉ BAY" but it was not in its current form.
THE ONES I PREFER
Once out, the songs no longer belong to me, you have to be in love with what you are doing when you are doing it.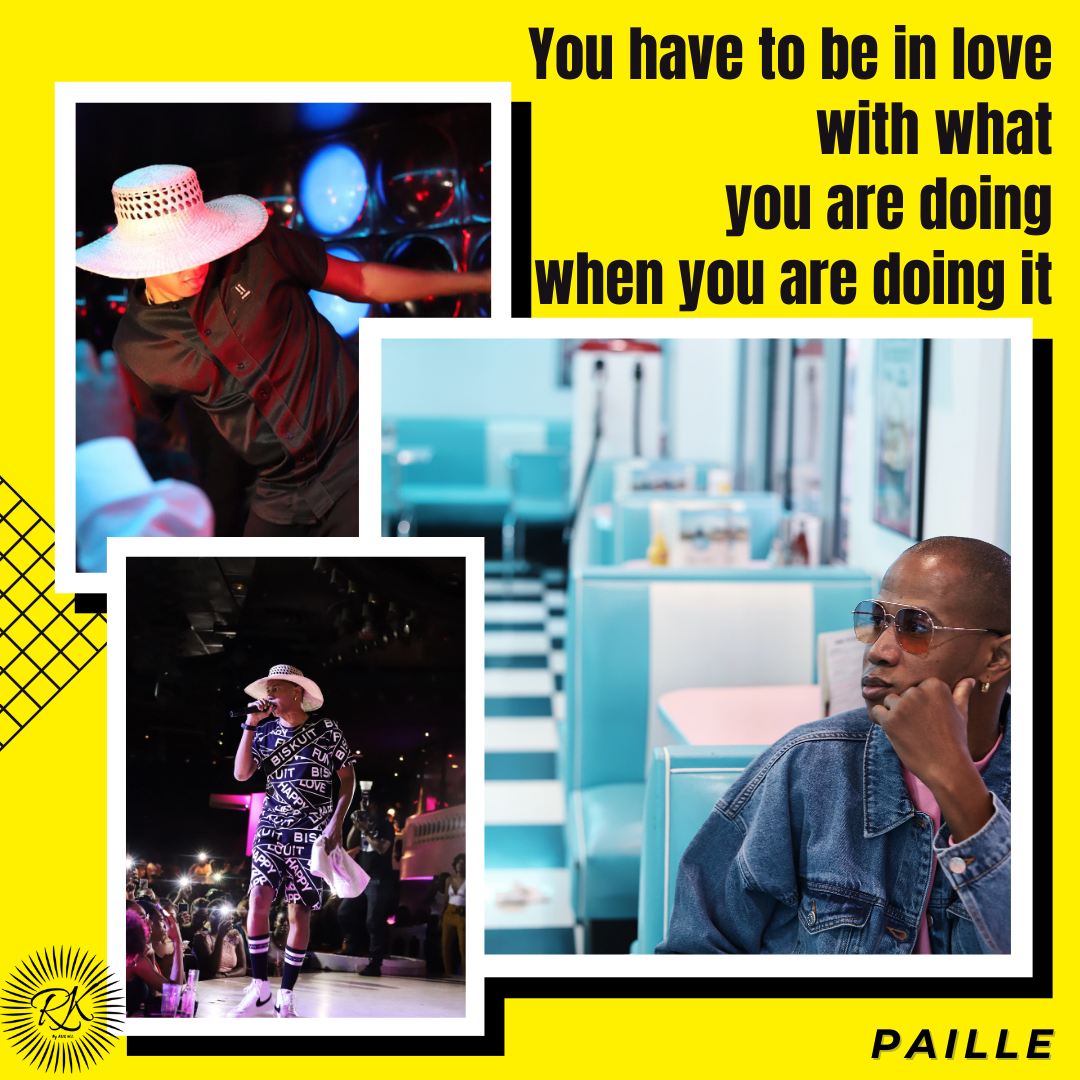 However, there are songs while writing them give more pleasure because it flows better or the topic of the problem seems more interesting.
But I am necessarily more motivated by those that come because I will listen, redo, look for the right word, the right way to pronounce, than by those that are already made.
SÉ DÈYÈ STYL KI NI STYL DÈYÈ FASON KI NI FASON…
Next Album!
I'm trying to make another album. I do not know when it will be released.
With the pandemic we lack visibility, it is very difficult to say that we will "put it out" and we will not be able to perform it live .
I have very little interest in doing on a platform.
What I like is singing, seeing people, having an audience in front of you and having an interaction.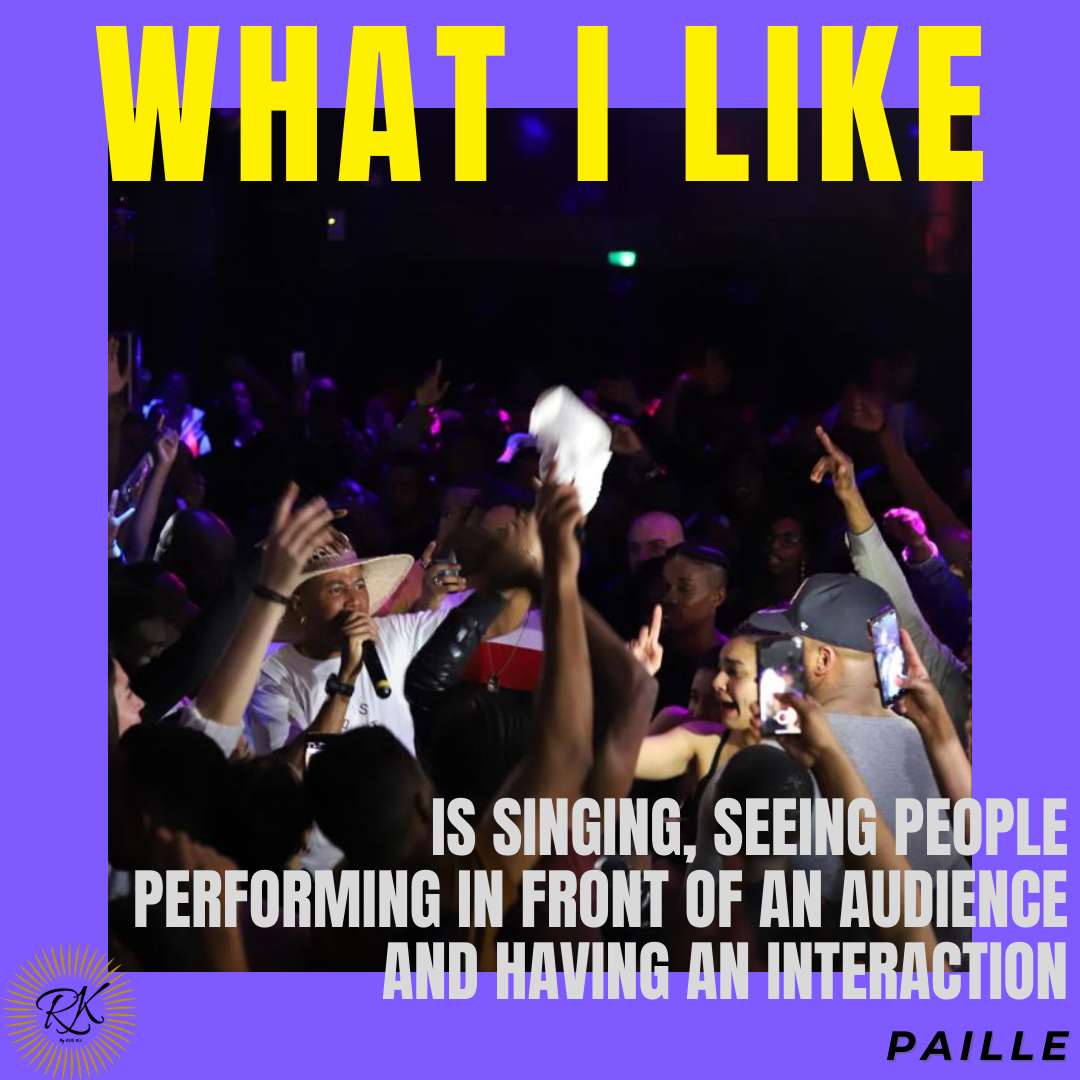 I did Bercy twice, the "Nuit de l'Outre-Mer" twice, the Olympia with E.sy Kennega…
I have also done festivals all over the world: Morocco, Canada, Colombia, Germany, Switzerland, Reunion…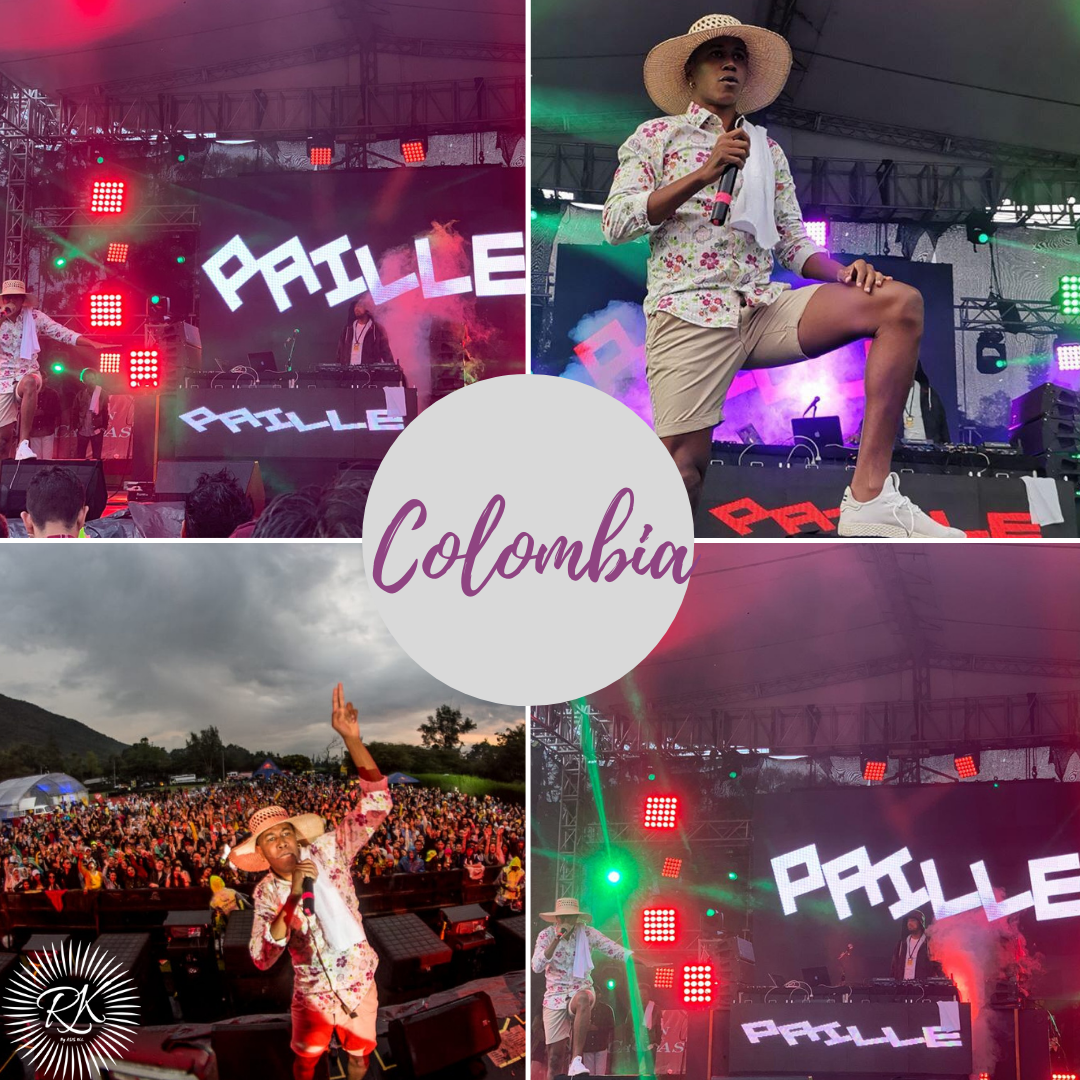 In fact, it's violent, but when Byronn and I started singing, it was about singing in Sainte-Luce and things took on other proportions.
But the period when we worked probably the hardest, was the one that allowed us to go from nothing to something.
From the moment you have something, there is a kind of snowball effect that can stop it very quickly. I was lucky.
But when nobody knows you, you do your thing in your little studio and no one has ever listened to you, when no one wants to listen to you, to get out of the shadows, it was a real energy at that time.
We were practically sleeping in the studio. We could stay there until 5am, Cedric's father was "kicking us out" because we were making too many noises.
It was completely different, my existence at that time, was only music.
I was thinking about music, I was reflecting the next day about what I should have done, how I could do it. Admittedly, with much less facilities than now but there was an energy that was crazy.
SOME OF MY COLLABORATIONS
As a resident of Sainte-Luce , one of my greatest collaborations would be the one with Straika D.
I was born with the music of Straika D, all the people around me were fans of Straika D and I myself was a fan. I'm still a fan of his.
I had the opportunity to collaborate with local and Caribbean artists such as Etana, Konshens, Anthony B.
AND MORE TO COME…
We are working on a collaboration with Lyrikal and Skinny Fabulous.. We're trying to open up.
The world has become both extremely small because we can talk to each other quickly and at the same time, it is a real problem because from one information to another, there is no chance of being able to precisely prioritize .
There are a lot of things that can get out of the way and at the same time, there is so much information, so many projects, so many people motivated to do so many things it can create a kind of immobility.
The prospects are very numerous and we made great progress: 10 years ago, it would not have been possible to make the videoclip with Etana, aa Jamaican female artist who came here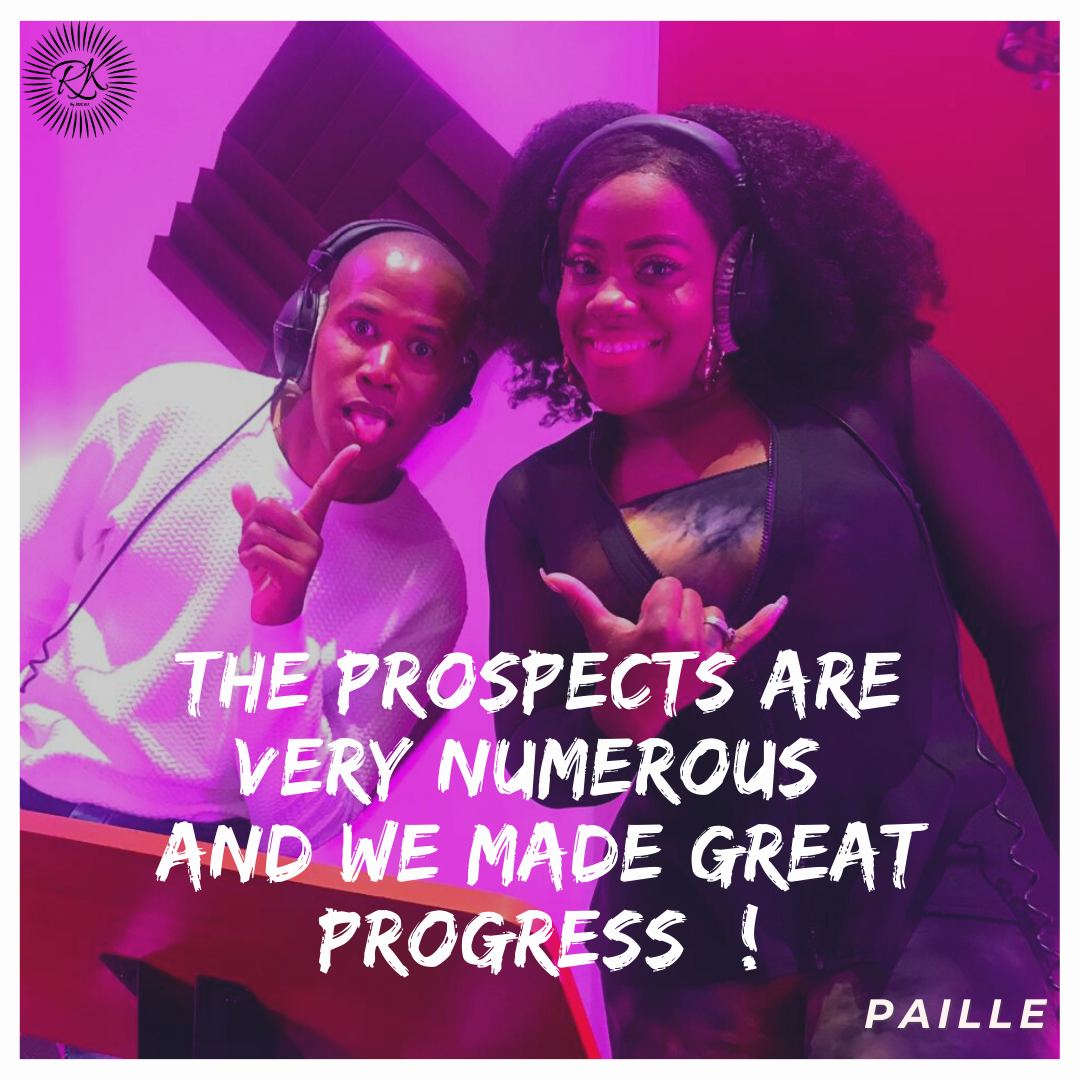 We try to engage Lila Iké to do a song that I wrote, but it's easy to do so.
Reggae music is special because as long as the singers are in the Jamaican fold, it's playable. From the moment they internationalize, it's another problem.
English speakers have this character treat and have an economic urgency that is not as obvious in our country. As a result, they really tend to prioritize what makes sense for a career or perspective for a market, perhaps even before the musical aspect.
What makes sense, I do not want to criticize that, but it is true that we have a temporality that is slower, we like to be sure of the song while the English will perhaps do things a little more spontaneously but that makes more marketing sense.
That little hurdle to jump over.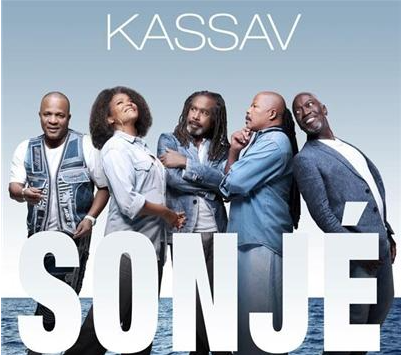 They became friends , besides, I wrote for KASSAV, Naimro asked me at the time.
This is another one of my greatest collaborations.
The track "Pié Mwen" that I originally called "Ladjé Mwen" is the 2nd single from their last album.
I felt a great pride in writing for KASSAV, much more than other things I have been able to do in my life.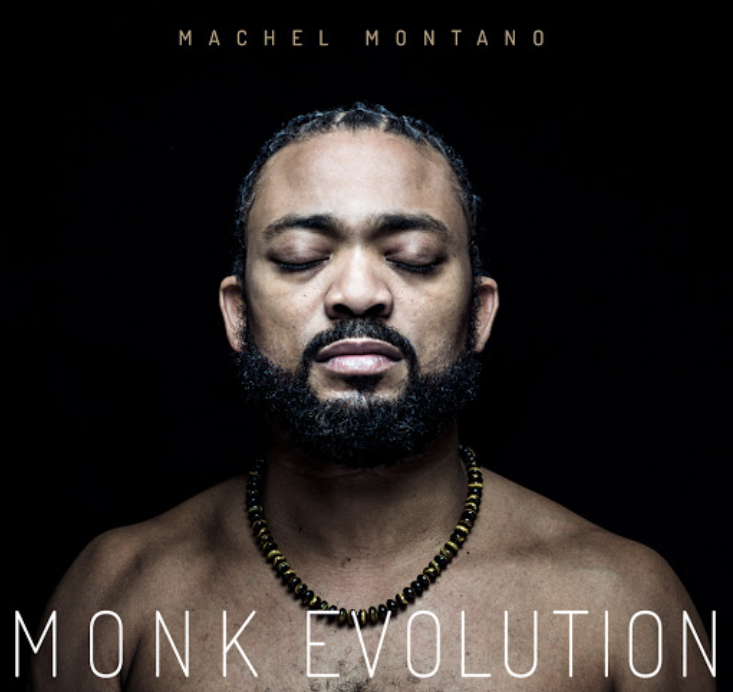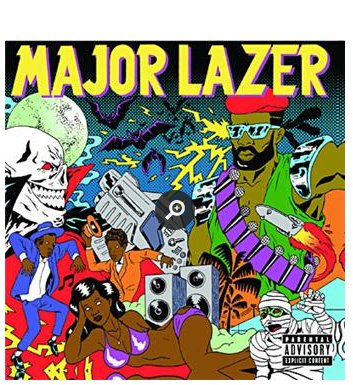 Those who do not distort the music but keep the songs authentic.
They still have the will of particularism while managing to have an aura that goes beyond the local framework.
No, I don't have any quote…
I hate to give people the opportunity to think for me, I think it is a kind of intellectual laziness, that is my point of view.
After my beleive, it is to say that we will not win but that the fight is interesting.
I know life is hard and I am not necessarily going to end up where I planned to finish, but the idea of fighting and moving towards that goal is interesting.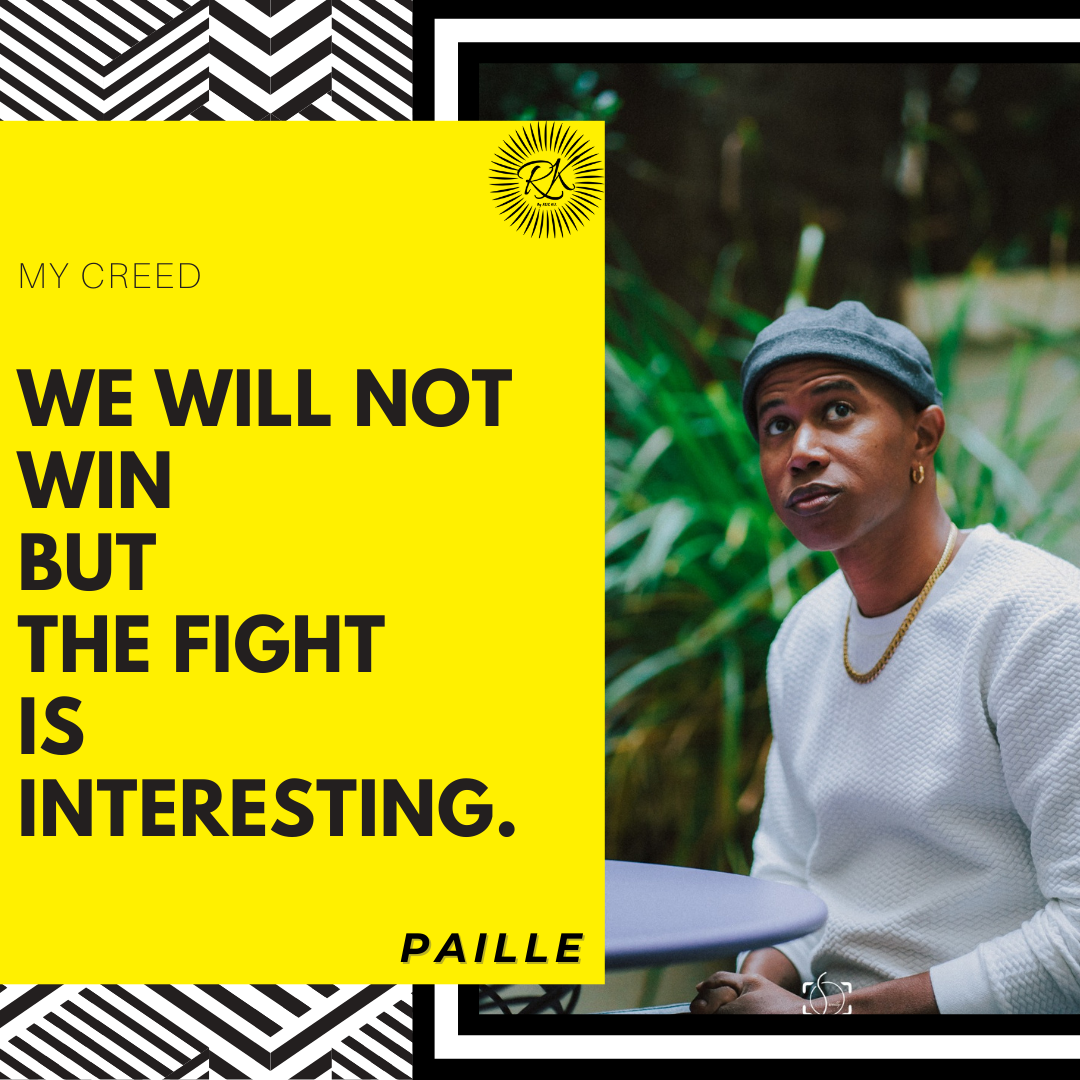 So having things to conquer, having legitimate expectations is the fact that I wake up in the morning.
I do not know contentment, it's not my personality.
I think happiness is the perspective of things to achieve. When you have things to do and they are not too far apart to discourage you and at the same time, not too close to lose value and interest. It makes sense.
That is why parents end up dedicating their lives to their children. As you get older, there are fewer and fewer things you can do, you lose perspectives. We pass the torch on to our children hoping they can do better than us.
We think it's children who need parents, it is the opposite !
Not to be comforted in contentment.
If we consider the system that we have created it is about of being on the top by pitting one against another.
So no one has any interest in helping his neighbor unless he has a personal interest.
The problem is that this assumption is based on a form of megalomania towards each other, this is a question that is not easily resolve, even though everyone is convinced they have the answer.
I think this megalomania does not make us objective about our lives. We are still convinced that we will be one of the few the system will pamper.
So we have no real reasons to create something else as a system since it is no longer about abolishing slavery but for everyone to become a master.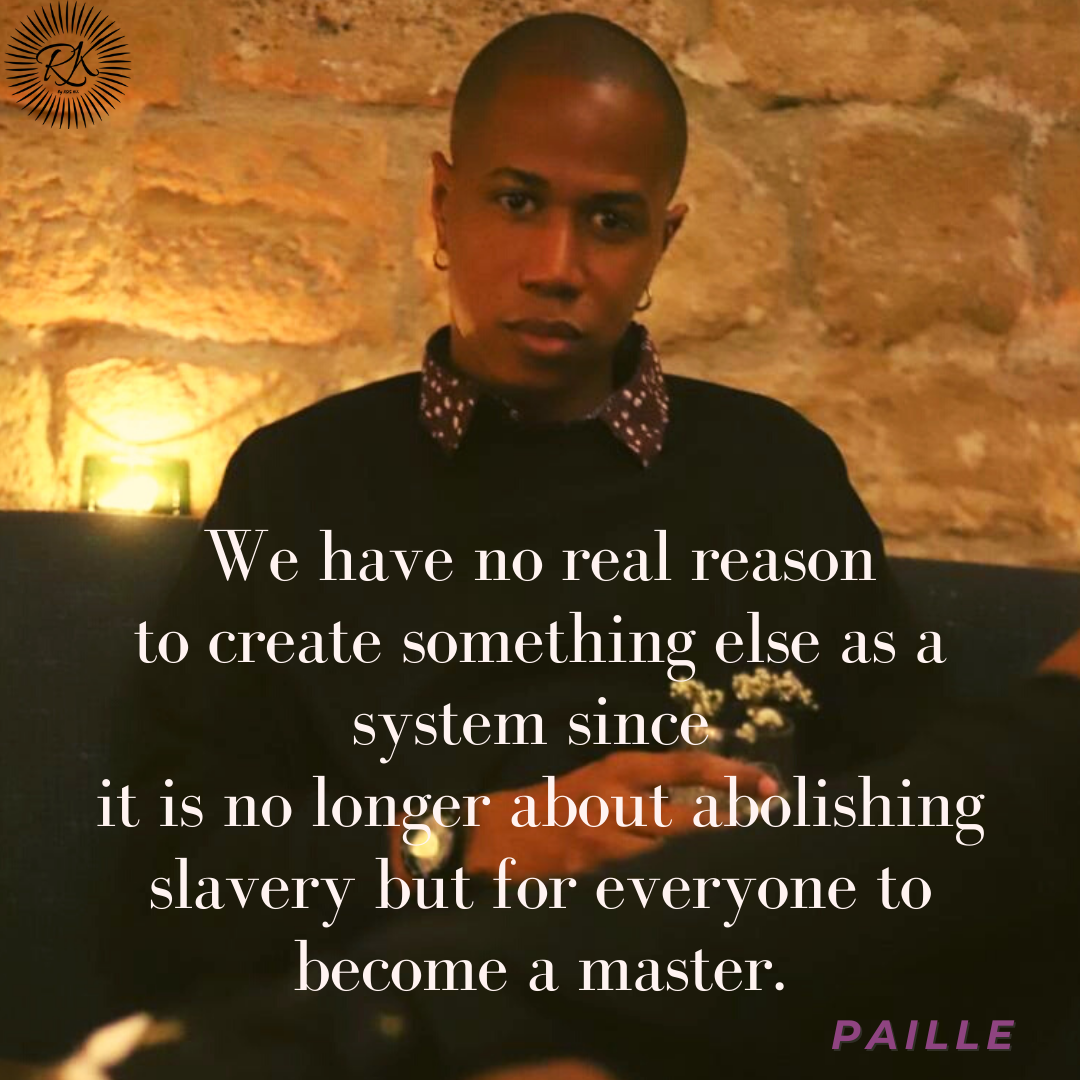 The triangular trade is the first case of oppressive capitalism that has been observed worldwide. And yet, everyone keeps a misunderstood example because it is the manifestation of the exploitation of blacks by whites.
In fact, it is above all the exploitation of one another.
What is extremely worrying and challenging to me is that we are replicating the pattern that enslaved us for 400 years.
In fact if I am asked the question, do I have more respect for a white "Isalop" (son of a bitch) than for a Black "Isalop" (SOB), for me it's the same!
I think we have created an extremely harsh society. We tend to believe that it is a kind of oasis where everything will grow and in fact it is not so…
You will actually have some flowers that will be adapted to this condition, which will succeed and create in all others the illusion that it is possible.
When I had the opportunity to travel to Dominica, or St. Lucia, I found that people from english caribbean islands know each other, it is certainly related to the Commonwealth.
Basically, when you look at the daily news of St. Lucia you have information from St. Vincent or Barbados, etc.
At home, in the French islands, there is a kind of ignorance of our history and therefore this construction of the Caribbean, inevitably, will require a better knowledge of one another.
I think we create togetherness when we understand each other and understand is to educate, understand is to explain, understand is to exchange and the time that is dedicated to this is at school.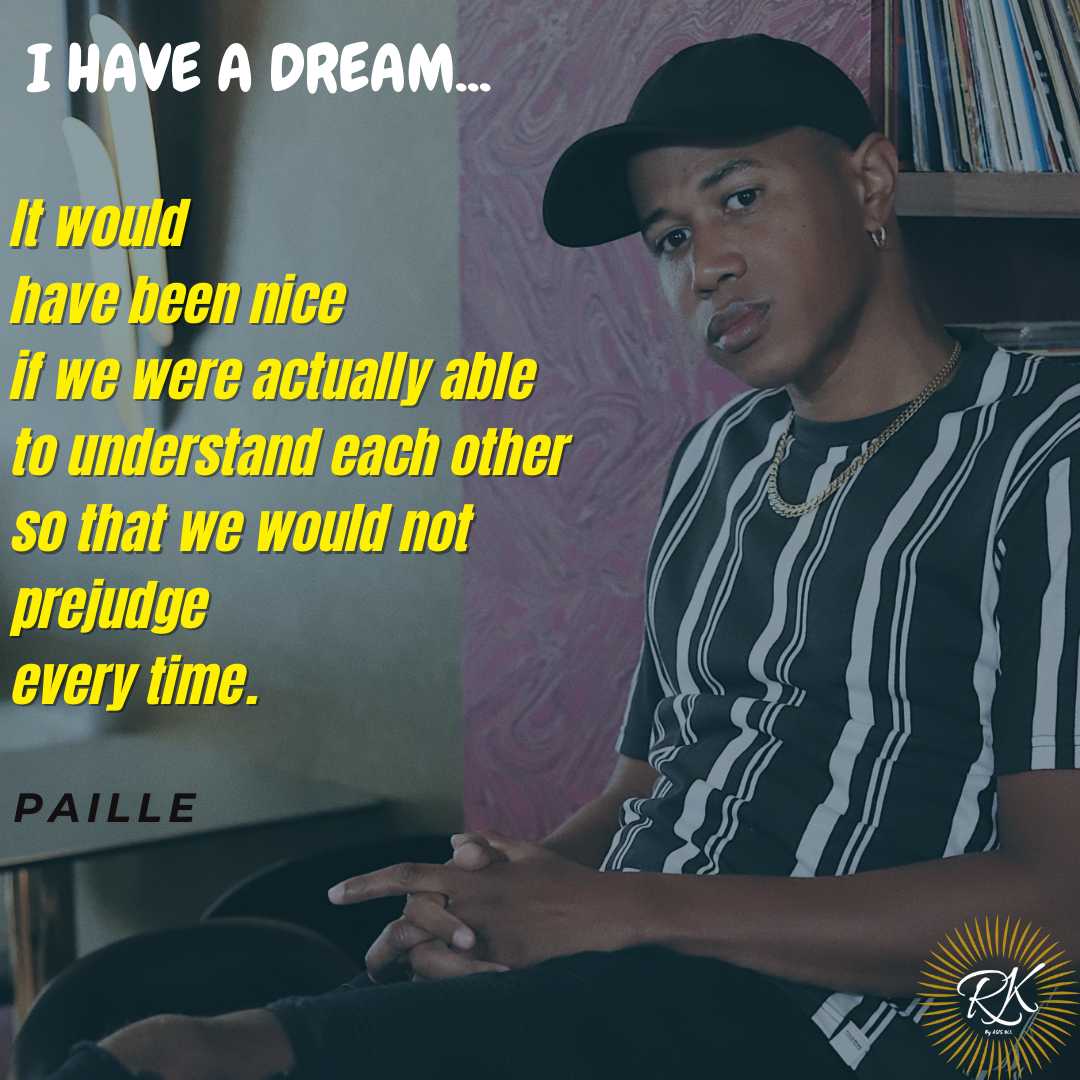 We are not going to ask adults who have already made up their mind, who have already built fixed beliefs and who have already built themselves around these beliefs to go and question everything or fabricate a Caribbean identity.
It is almost too late, whether we like it or not, it has be sooner and it has to happen at a time when the minds are still virgin, candid and willing to understand.
It is wishful thinking because it will not happen, the world is moving too fast today to take the time to get to know each other better.
It would have been nice if we were actually able to understand each other so that we would not prejudge every time.
PAILLE HAS A MESSAGE FOR YOU!!!
NEXT RICHÈS KARAYIB
Meeting on 09/02/2021
Sign up now to be informed!
PREVIOUSLY ON RICHÈS KARAYIB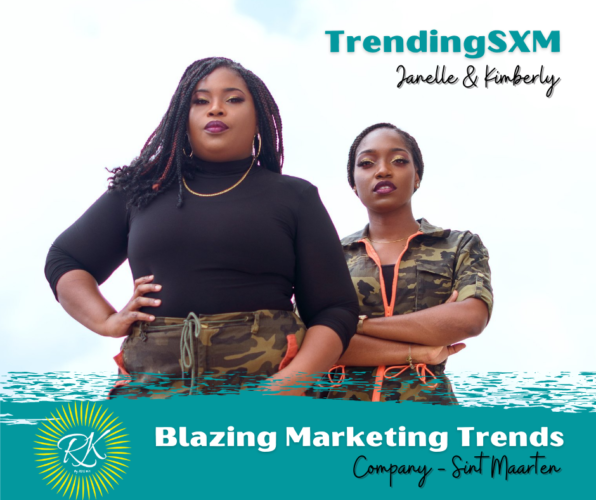 Richès Karayib introduces you to 2 dynamic businesswomen : Kimberly Meyers & Janelle Presentacion They own Trending SXM, a media marketing and production company located in Sint Maarten. Their goal Elevate the marketing of businesses and help them to achieve their...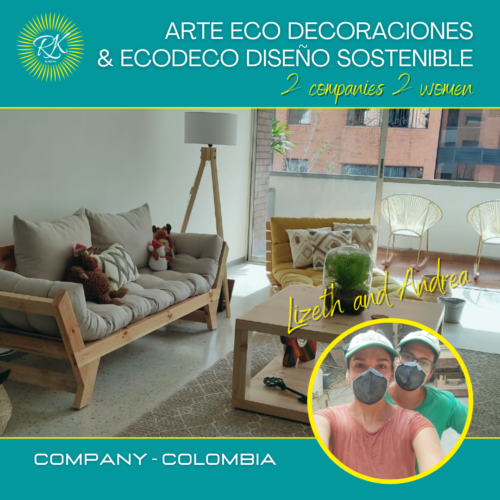 ARTE ECO DECORACIONES & ECODECO DISEÑO SOSTENIBLE Richès Karayib presents the story of two women, two ecological carpenters, Andrea Cortes and Lizeth Ospina who have created 2 companies Arte Eco Decoraciones and EcoDeco Diseño Sostenible. The companies,...